Ms. Selita Monique Chapman
Miss Omar 2000

PURPOSE
The Purpose and benefits of the Talent & Scholarship Pageant are three fold.
Contestants are able to present their talent to a captive and appreciative audience in the community and participate for the honor of representing a Temple from the local level to the International level. Omar Temple No. 21 Shriners and Omar Court No. 91 Daughters of Isis are able to demonstrate their commitment to the development of youth. The pageant also allows the public and opportunity to enjoy, witness, and appreciate the talent, intellect, and culture of young ladies from the Costal Empire.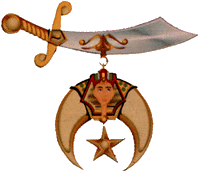 Omar Temple No.21
Omar Court No. 91

Annual Talent and Scholarship Pageant
The Omar Temple No.21 and Omar Court No. 91 Talent and Scholarship Pageant was held on 15 April 2000 at Jenkins High School in Savannah Georgia. There were a lot of Nobles and Daughters as well as guest and Spectators in attendance. All contestants were judged on the Following Categories, Poise and Charm, Talent, and Intellectual Functioning. The Welcome was given by Noble Tyrone Ball and Prayer was offered by Past Potentate Warren Jones Jr. which was followed by the Parade of Contestants. The St. Paul C.M.E. Praise Dancers offered an Outstanding performance. The contestants came back out for the Poise and Charm Competition which was followed by the Talent Competition. The J. B. Cooper Golden Youth Council #4 then performed a Breath taking Dance routine. The contestants came back out for the Intellectual Functioning and where ask the following Question "What do you think needs to be done to Stop School Violence" ? The J.B. Cooper Golden Youth Council #4 performed again. The Pageant was won by Ms. Selita Monique Chapman a Seventeen year old Senior at A. E. Beach High School. Ms. Chapman is a honor student whose other honors include Who's Who, Georgia State Merit Award, National Science Award, High School Honor Roll with Distinction, Top 5% of her class, and All American Scholar. She is a member of the Youth Choir of the United House of Prayer. Her hobbies are Running Track, Basketball, Singing and Reading. She is the Daughter of Ms. Inez Bennett. First Runner-up was Ms. Chanta Diann Parker a nineteen year old freshman at Spelman College. She was Valedictorian for Savannah High 1999 school year, also Star student, school representative to the Chatham County Board of Education, Ms. Parker received awards for Outstanding senior, most Outstanding Law Student and Superintendent Award. She is a member of Alpha Lambda Delta, National Freshman Honor Society. Chanta is an assistant with the State Bar of Georgia. She is the proud daughter of Mr. & Mrs. William Bush. Second Runner-up was Ms. Fracena L. Byrd a seventeen year old Senior at Savannah Arts Academy. She is a Honor student who has received Who's Who, National Mathematics Award, All American Scholar, National Leadership and Service Award, National Council of Negroes. She is also a Women Youth Community Service winner. She is the daughter of Ms. Helen P. Fields. The Awards to winners were presented by Illustrious Potentate Louis D. Hamilton and Illustrious Commandress Lillie Waring. The pageant was officiated by Mr. Larry McDuffie judges were Mrs. Bessie Allen, Mrs. Rosa Williams, Mrs. Natasha Harris-Haggan, Sis. Varnell Porter-Snow totaled the Scores for each competition. Each Contestant was given a Care Package from Carson Products. Of Savannah, and Donations were made toward the Pageant from Mr. Bill Richard State Farm Agent, Mr. Harold Jenkins Allstate Agent, Mr. John Copeland Allstate Agent.